Franchise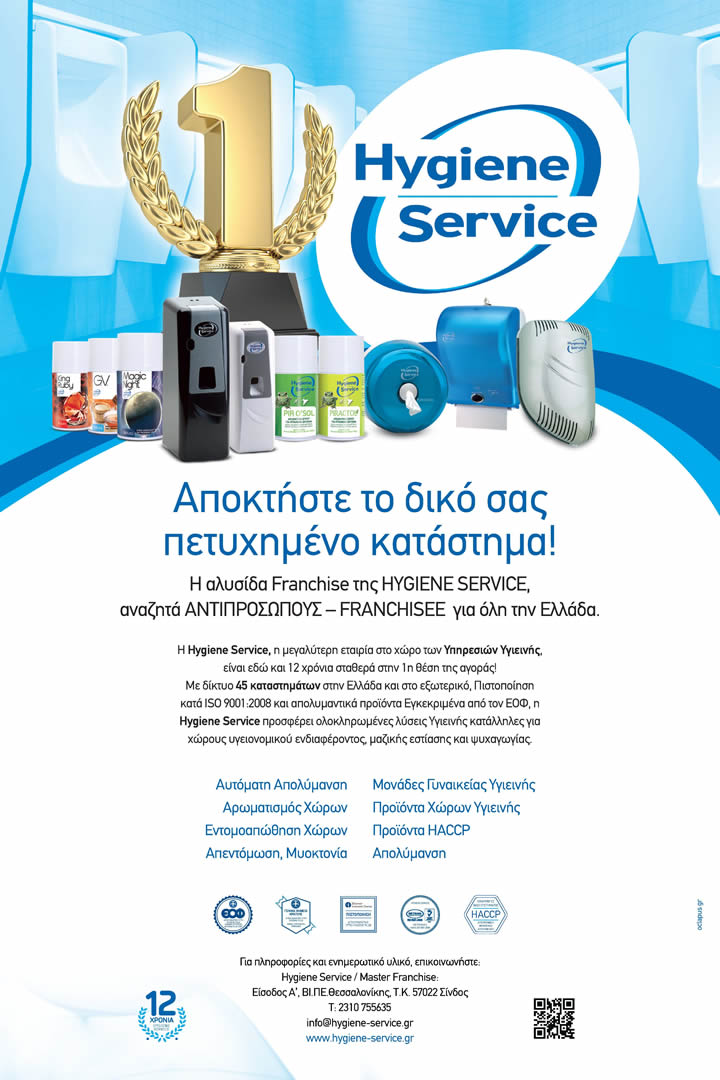 Your Own Successful Shop!
HYGIENE SERVICE wish to expand her network of REPRESENTATIVES - FRANCHISEE all around Europe.
CONCEPT
Hygiene Service, the largest company in the field of Hygiene Services, has been the market leader for 15 years! With a network of 45 branches in Greece and abroad, ISO 9001: 2008 Certification and Disinfectant Products Approved by National Organization of Medicines, Hygiene Service offers complete hygiene solutions suitable for areas of sanitary interest, mass catering and entertainment. For more than 15 years, Hygiene Service has been serving with professionalism catering, entertainment and commercial operations throughout Greece and abroad.
The great advantage of Hygiene Service is the wide range of innovative and full range of products and services, and Pest Controls applies for Washroom area, WC, Kitchen and Service area. We offer Services, that upgraded business premises and appeal to professionals who respect their customers and employees, wanting to always offer the best.
Our target market is enormous as Hygiene Service's products and services are resonating and appealing to every professional area. (Restaurants, coffee –bars, hotels, clinics, hospitals, schools, public services, banks, airports, shops, factories, offices, etc.)
WE OFFER
Organization of the new business in all sectors
Continuous training of staff
Continuous monitoring of how the store is proceeding
Exclusive product lines and quality services
Advertising Support
Remarkable number of customers for new partners (ready-made clientele)
Turnover and Profits from Day 1
GUARANTEED SUCCESS
Innovative concept, without competition
Area exclusivity
Large profit margins and direct capital depreciation
Continuous research and development of new products and services
Long-term and continuous sale to each customer
Creating a relationship of trust with the customer